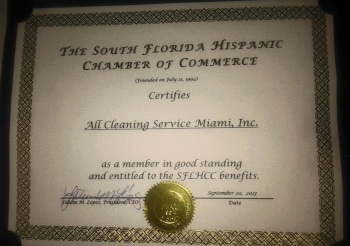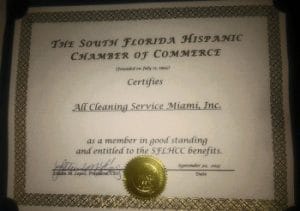 Smack dab in the middle of Hispanic Heritage Month, All Cleaning Service Miami got an awesome piece of snail mail, our certificate of membership from the South Florida Hispanic Chamber of Commerce.
We recently joined this great organization, which has promoted the continued growth and development of the Hispanic business community and advocates for Hispanic and Minority-owned businesses since 1994, hoping to be more active within the community of Hispanic business owners.
Coincidentally, 1994 is the year ACSM President Doris Parra moved to Miami, FL from Madrid, Spain with her two children and the American Dream in mind. And just three years after beginning her journey in the Land of the Free, she founded All Cleaning Service Miami as the sole employee. Since then, the company has grown tremendously to more than 30 employees and dozens of clients, which have included Telemundo, Univision, CFH Group, Endemol Latino, Delgado Investments and more. ACSM has now been able to give others, including several Hispanics, the opportunity to grow professionally and get closer to their American Dream.
ACSM wanted to join this organization to support other Hispanics in South Florida who are helping the American economy through entrepreneurship and hard work and support such a great group of people.
We're looking forward to meeting other amazing Hispanic business owners in our community.
Do you have your own American Dream story? Share it with us!